Alfresco Dining
When the weather is warm and the sun is making an appearance, there's nothing quite like enjoying a delicious meal or drink outdoors.
Whether you're stopping for an iced coffee break or going for a meal with friends, we've put together some suggestions for eateries in Hereford City Centre with outdoor seating. We can't guarantee that the British weather will always be on side, but this list is on hand for when the sun does shine in summer!
Coffee & Cake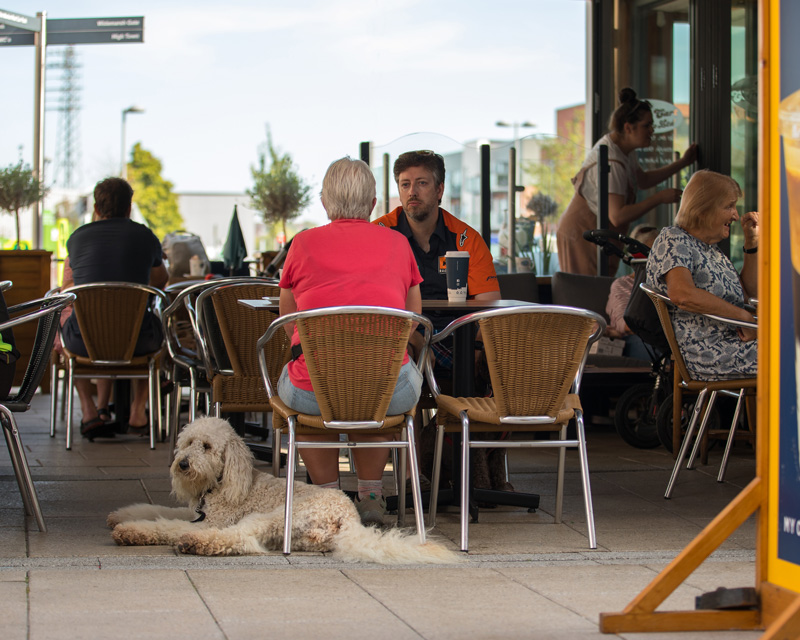 Picking up a coffee and sweet treat? The Coffee Cart Company Ltd (High Town & Old Market) is a great place to pick up a refreshing iced tea, snack or ice cream. Their outdoor seating offers some shade cover too to protect you from any sudden summer rain showers.
Alternatively, Eden House of Coffee's outdoor seating is nicely shaded by the beautiful Black & White House providing the ideal spot to cool off and enjoy an iced coffee, made with fantastic Method Roastery coffee. As a dog-friendly location, there's also water on offer for thirsty pooches too.
If you are craving your favourite big-brand coffee instead, don't worry, Caffe Nero, Coffee #1 and Costa Coffee (Old Market) all have seating areas at the front of their stores.
Can't find a seat to enjoy your drink? Pick up a takeaway and enjoy while strolling through the city or around Castle Green.
A spot of lunch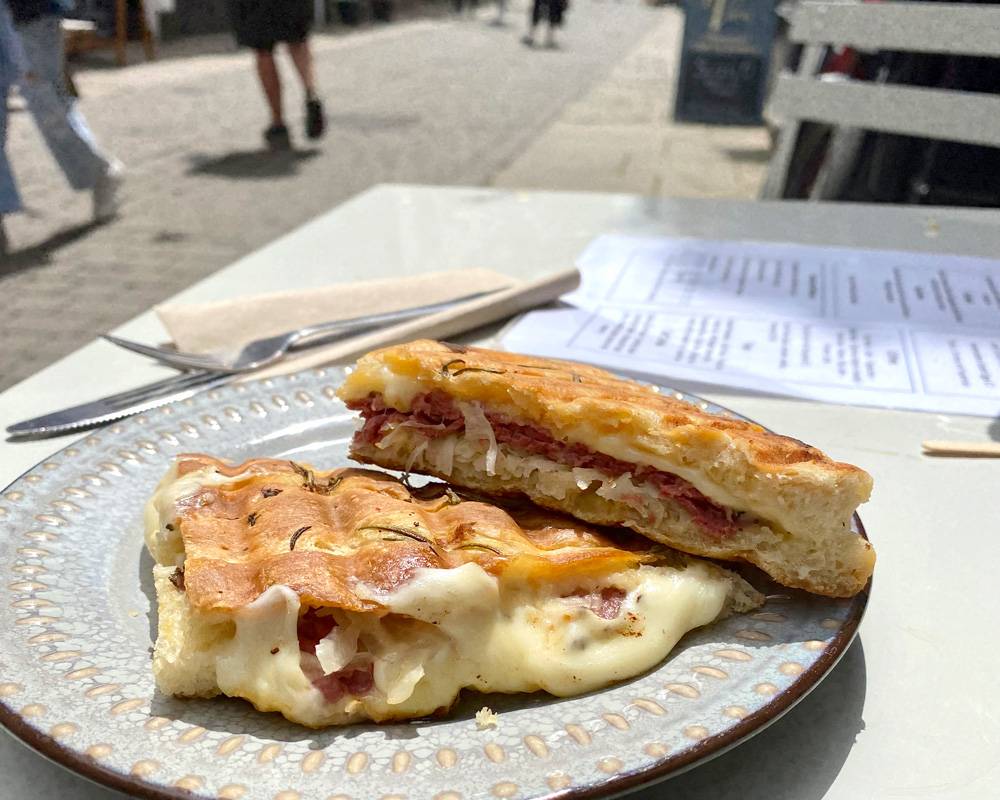 In Church Street, there's plenty of options for visitors looking for lunch in Hereford's Independent Quarter. Polly's at Number 10, The Little Deli and Rocket Cafe all have tables directly outside their stores on Church Street. The Litchfield Vaults has a great beer garden at rear of the pub as well as some picnic tables at the front, where you can enjoy good food and/or a pint of beer too!
Also, on Church Street, popular French bistro, La Madeleine, has seating available in their delightful garden at the rear of the restaurant. It's perfect for enjoying a lunchtime catch-up with a friend away from the hustle and bustle of the main streets.
For visitors who would enjoy a meal in historic surroundings, we'd recommend lunching at the city's most famous landmark - Hereford Cathedral! The Cathedral Cafe serves a range of delicious sandwiches, quiches and specials, which you can enjoy in the beautiful setting of the award-winning Chapter House Garden.
Fans of Bill's Kitchen (Cafe at All Saints) will be pleased to know they can enjoy a delicious lunch in the sunshine too. Bill's Kitchen also offer all of their food for takeaway, so you can easily grab something to go and enjoy as a picnic on Cathedral Green.
Evenings Out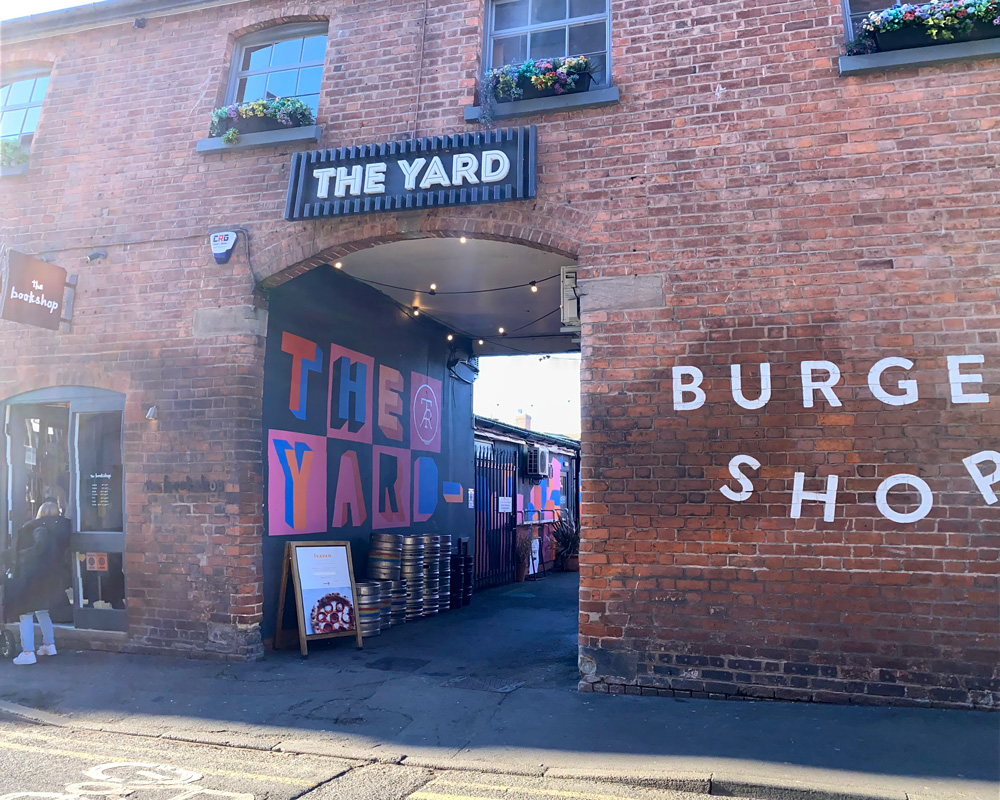 The Old Market also has tons to offer for an evening meal out, with all the great chain and indie restaurants offering outdoor seating. The Beefy Boys have an extended outdoor seating area at the front of their restaurant with canopy coverage and outdoor heaters - this is super popular though so booking is advised!
Nestled behind the A Rule Of Tum restaurants on Aubrey Street is their urban eating and drinking space, The Yard. Here you can order delicious drinks from their Alfresco Bar and treat yourself to their NEW Loaded Fries! The Yard doesn't take reservations so just pop by and see if you can grab a seat.
For outdoor dining with a view, try De Koffie Pot at the Left Bank Village, or Castle House Hotel. De Koffie Pot offers delicious food, views of the River Wye, fire pits, and live music nights, making it a great summer destination with friends. Castle House's incredible Waterside Restaurant has great outdoor seating with views over the Duck Pond; combined with their sumptuous menus this is definitely the ultimate spot for a luxurious summer date.
Discover more on LoyalFree!
You can find even more outdoor dining destinations on the Outdoor Dining Trail only on LoyalFree! Free to download, just head to the trails section and open the Outdoor Dining Trail to discover great eateries near to you!