Six must-visit destinations for food & drink lovers
Here's how to find some of the best destinations for a real taste of Herefordshire.
Here we really do think of Herefordshire as the land of milk and honey, because the county grows so much fresh food and, would you believe it, drinks, through its farming culture and heritage.
Castle House Hotel

First let's start with the famous and flavoursome Hereford Beef. Internationally renowned for its supple texture and meatiness, this hardy breed originated right here and it's where Hereford Cattle Society still has its home. This perfect roasting and grilling meat is served all over the City and County in Hereford and the 'shire.
Owned by Hereford Cattle farmer David Watkins, Castle House, Hereford City's beautiful waterside boutique hotel, prides itself on serving this prize of plate beef straight from the fields of their Ballingham Farm along with chips from their own potatoes too. With the hotel's new garden dining room alongside their casual brasserie, we can't think of a better way to experience some real food provenance.
A Rule of Tum

If you're looking for somewhere less formal to dine, you'll enjoy the more contemporary environment of the trilogy of locations developed by the team of A Rule of Tum. Evolving from a pop-up and event catering business, brothers Ed and Dorian went on to crowd fund the purchase of their destination dining premises tucked away in a side street behind the Green Dragon Hotel. Now with The Burger Shop (for communal bench seating and gourmet burgers), The Yard for outdoor 'garden' style meet-ups, and The Bookshop for more refined fayre and their award-winning Sunday Roasts you'll find locally sourced ingredients whenever possible in each uniquely created dish from the regularly menu.
eN Korean BBQ

Something you might not have expected in rural (landlocked) Herefordshire is incredible Sushi but prepare to be amazed, because En BBQ has it all – the best of Korean flavours but with a local twist. A popular dining destination for Herefordians, this great restaurant in Hereford Old Market Shopping Centre delivers an exceptional Korean Barbeque experience, as well as delicious ramen, sushi and a menu of tasty cocktails.
That famous Hereford Beef we mentioned earlier? Choose from Ribeye or Sirloin to grill at your table and enjoy alongside traditional Korean banchans, like their homemade Kimchi or Oi muchim (a light and refreshing cucumber salad).
The Barrels and Wye Valley Brewery

Did you know that Hereford City is known to have the cheapest 'pint' in the country? Thanks to local brewers Wye Valley Brewery, their city centre brewery tap, The Barrels in St Owen Street, is a place where you'll feel really at home and nobody expects you to stand on ceremony. With plenty of outdoor yet covered space as well as the usual bar areas, is an institution of friendliness, banter and, of course, great beer. Again family owned and operated since 1985, raise a glass of Butty Bach to their live music, beer festival and general conviviality that is somehow injected into the brewery's hoppy nectar. Having outgrown this original site some years ago, the full Wye Valley Brewery plant is located at Stoke Edith in East Herefordshire where you can also experience tours and tastings as well as the brewery shop – you might bump into the Hop Father himself, Vernon, son of the owner Peter Amore.
Secret Bottle Shop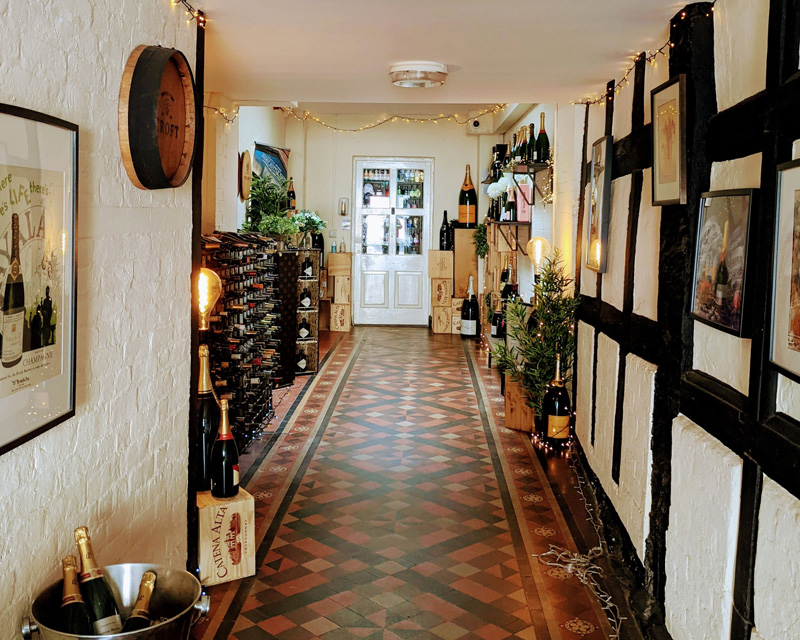 Tucked away down a not-so-secret passageway just off Widemarsh Street, is an Aladdin's cave that will capture the hearts of wine enthusiasts, whiskey connoisseurs and gin fanatics. As a family business that has been in the licensing trade over 300 years, the Secret Bottle Shop team have exceptional knowledge when it comes to wines, champagnes and spirits and are always happy to offer expert advice or point you in the right direction.
In addition to wines from around the world, the Secret Bottle Shop also stocks great products from Herefordshire and surrounding counties. Gins from Ludlow, Whiskey from Wales and Herefordian Vodkas to name a few, all of which would be sure to make excellent souvenirs too!
Church Street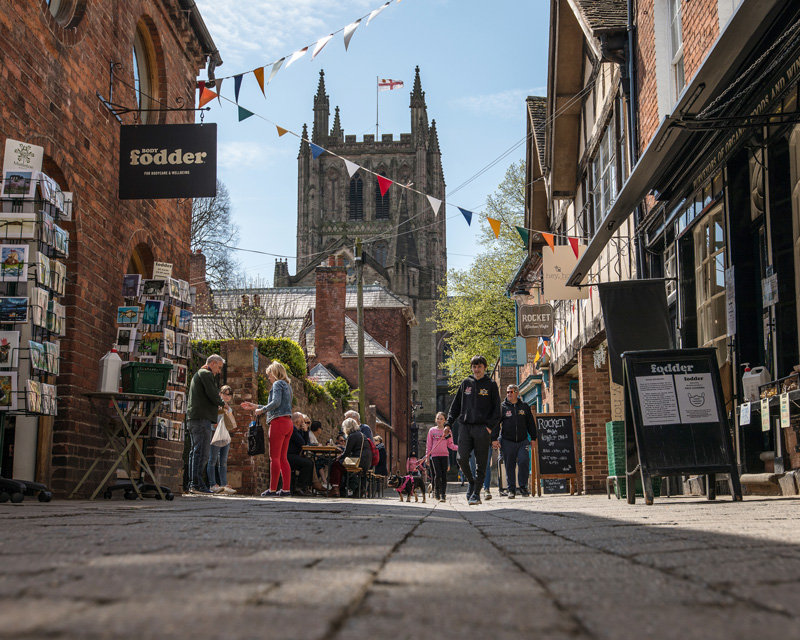 Located in the heart of Hereford's cathedral quarter, a mere stone's throw from the famous Cathedral itself, is Church Street. Filled to the brim with incredible independent foodie destinations, this historic street should feature in any visit to the city. Here are a round up of some of the great spots you can visit.
For day-time dining, delicious lunches and cakes can be found at The Little Deli, Rocket Café, Polly's Number 10 and La Madeleine. The latter, a French-inspired bistro, also hosts supper evenings, with a new menu of delights to discover each time. The street is also home to a traditional town pub, the Lichfield Vaults, which boasts a great selection of local ales and ciders.
For cheese-lovers, Mousetrap Cheese Shop is a must-visit. Ask them about their cheese of the month and discover the great range of locally made chutneys to complement you purchases.
Finally, make sure you make your way to Fodder. Catering for wholefoods, allergies and intolerances, health products and special diets, Fodder is a place where you walk in and just want to inhale the goodness from packed artisan style shelves, pick up all sorts of exciting, guilt-free, foodie ingredients to experiment with.
Hereford really has got good taste - get exploring!