Get Ready for Mother's Day
Are you looking to spoil your mum this year? It's less than a month until Mothering Sunday on 14th March, but there's still plenty time to organise a lovely treat for your mum and we've got some ideas to help you out, including gift boxes, vouchers for post-lockdown activities, flowers, Sunday lunch meal boxes and pampering essentials.
While we've still got a way to go with the government's roadmap out of lockdown, you can still spread some joy at a distance and look forward to being able to spend some quality time together soon.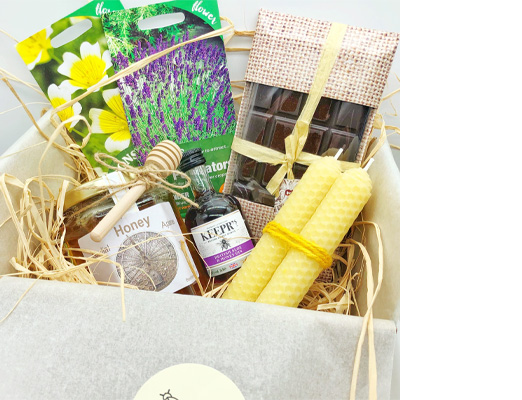 These gorgeous gift boxes from Hey Honey! are filled with wonderful treats and would make the perfect gift for any lover of gardens, flowers and bees. Each gift box includes a tasty tipple, honey and some pollinator-friendly seeds.
Head to the Hey Honey! Website to shop their range of gift boxes.
Hey Honey! Facebook | Hey Honey! Instagram
If you've not been able to spend much time with your mum due to COVID, why not give a gift that gives you and your mum something to look forward to. Purchasing a gift voucher for an activity to do together when restrictions are lifted not only is a great gift but gives you the flexibility to choose what you want without worrying about changes in restrictions cancelling your plans. Our suggestions would be:
Gin Tasting for Two at The Green Dragon Hotel – purchase vouchers here
Afternoon Tea at Castle House Hotel – purchase vouchers here
Spring has (almost) sprung and lovely springtime blooms will make a great Mother's Day gift. Pictured flowers are a beautiful posy from Beehive Florist. Shop Mother's Day flowers here:
Beehive Florist | Website | Facebook | Instagram
Blooming Temptations | Website | Facebook | Instagram
Sarah Jane's Joy of Flowers | Website | Facebook | Instagram
Lockdown, endless home-schooling and rubbish weather? All mums deserve a good pampering! Why not pick up some gifts that will offer some well deserved relaxation. Our top picks would include:
The Honey & Almond Duo from the Body Shop | St Eval Tranquillity Candle from Printer + Tailor | Beauty Bath Bombs from Luna Gifts (featured) | a decadent bottle of fizz from the Secret Bottle Shop.
For a gift that does it all, and can be delivered anywhere in the UK, the brilliant AROT Bookshop team have created Mother's Day gift boxes that include: 2 heat-at-home Sunday Lunches, 2 sticky toffee and walnut puddings, a bunch of flowers AND two Chase Gin & Tonics. Don't miss out – there are a limited number of these boxes available and the deadline for ordering is 8 March, so be quick and order soon!
Wishing all mums a very happy Mother's Day, love from the Hereford City Life team!