Lockdown Valentine's Day Inspiration
Don't let lockdown stop you enjoying yourself this February. After all this working from home, home-schooling and miserable weather, we all deserve a treat. So, whether you're celebrating Valentine's, Galentine's or just looking for an excuse to do something fun, we've put together some Valentine's gift inspiration for you.
Virtual Valentine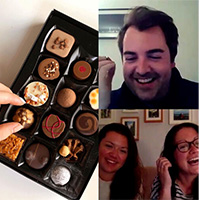 Looking to share an experience? Don't feel limited by lockdown! There are lots of virtual events to enjoy from the comfort of your own home. We love the idea of gifting a virtual tasting experience for Valentine's Day - you get delicious treats delivered to your door and can join a virtual meeting to learn all about the business and goodies you're trying.
​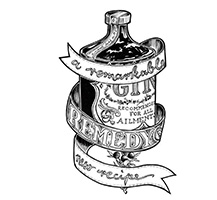 For chocoholics: try Hotel Chocolat's Ultimate Virtual Chocolate Tasting Experience! You get an interactive chocolate tasting, hosted by a live chocolate expert where you will learn all about the world of chocolate. Aimed at groups of 5 or more, pair up with other couples or get the gals together to celebrate Galentine's online.
For wine-lovers: Tanners Wines have a calendar full of " A Taste of Tanners at Home" online wine tastings, where you can sample great wine (with a case delivered to your door) and enjoy a relaxed and informative evening. Their next wine tasting is on 18th February and features 5 great wines to enjoy.
Gin more your thing? Tanners aren't just showcasing great wine, next month they've teamed up with a brilliant local gin maker, Haven Distillery, to guide you through three gins and accompanying tonics. The evening will cover the heritage of Gin, the making of Gin and the backstory of this energetic and passionate Distillery, so book now for a great virtual valentine gift.
Tasty Takeaway Treats
Don't fancy doing the washing up on Valentine's Day? We don't blame you! Take advantage of all the fantastic eateries in Hereford offering takeaways instead. There's roast dinners from The Den, delicious deep-pan pizzas from The Broad Street Pizza Works and of course the best burgers around from The Beefy Boys and Burger Shop. Head to our Open for Business page to find even more local takeaways to choose from.
Dinner for two
If you're a dedicated foodie and really looking to impress your other half with your culinary skills, we've got some great ideas for you!
Pick up some steak from Neil Powell Master Butchers, or Phillips & Preece in the Buttermarket,and pair it with chunky chips and local veggies for a delicious dinner that's sure to be a hit. For extra bonus points, you could bake a gorgeous chocolately dessert too.
Alternatively, Cotto Hereford have launched two incredible cook-at-home menus, just for Valentine's Day, which will be sure to knock your socks off and require minimal work from you to prepare - it's your day to enjoy too after all. Find the menus and place your order here.
Treats and Gifts
If you're looking to really pamper your other half, we've also got some great gifting ideas for you:
Gift Boxes
Discover the Valentine's Day Gift Boxes from The Little Deli. They're filled with lots of delicious goodies, from gin to sweet chilli jam, all in a beautiful gift box, and bound to be a hit! Available from £15, email or call the Little Deli to place your order.
Order a Gin Gift Set from Gordon Bennetts – chocolates are always a Valentine's favourite but being paired with a favourite tipple takes it up a notch! Shop via their website.
Something Shiny
Hereford is lucky to have some incredible independent jewellers, here are some of our top picks if you're looking to pick up something blingy. Firstly the Daisy Collection from John McKellar Designer Jewellery – we love this super popular range, with its dainty daisy design, which is available in earrings, necklaces or rings. Mike Gell has a huge range of luxury jewellery, from rings to cufflinks, and gifts. However, for Valentine's day, we especially love these handcrafted Sterling silver heart pendants, by Rebecca Lewis.
Floral Favourites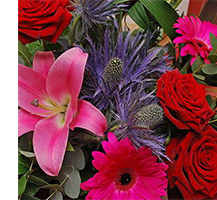 Who doesn't love flowers? Hereford's amazing florists offer local delivery but be sure to order in good time so you don't miss out. Here are a few of our favourite bunches for valentine's day:
We love the soft pink pastels of this gorgeous Marshmallow bouquet from Sarah Jane's Joy of Flowers, the more vibrant colour palette of the Romance bouquet from Beehive Florist, and this Valentine's classic, a 6 Red Rose bouquet from Blooming Temptations.
We hope you've found some Valentine's Day inspiration in our article and that you're able to have a wonderful lockdown celebration for Valentine's Day.
Love from the Hereford City Life team.