Hereford's new entertainment venue!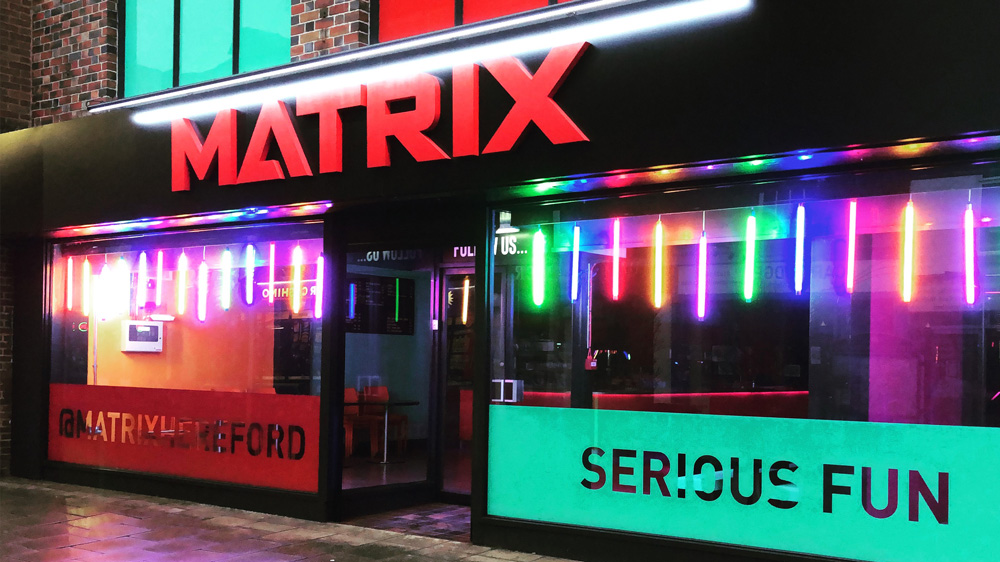 When Hereford City Life saw the changes taking place in Eign Gate, at the site of the old Poundstretcher, we were excited to follow the progress of this new venue. Despite the challenges of opening during a pandemic, owners Mel and Terry McGee, have created an incredible entertainment space in the heart of Hereford that is set to open fully later this year as restrictions lift. Rhiannon, Marketing Manager for Hereford City Life, chatted with Mel to find out more about the story behind Matrix and their plans for the future.
Rhiannon: For people who might be less familiar with Matrix, could you share a little background with us about yourself and how you got started?
Mel: We are a local family and like most families have spent years travelling out of Hereford for things to do with the kids. We talked about how great it would be to have a place in Hereford with activities for all ages and when Terry left the military and our kids were older we started to put our plan into action to create a Family Entertainment Centre. The biggest challenge was finding the right premises as we wanted our venue to be in town with easy access and we have tried to include as many activities possible in the space we have in Matrix on Eign Gate. So after years of planning and transforming the old Poundstretcher store into a vibrant, fun place we are now opening in a pandemic!
R: Opening during a pandemic is obviously not what anyone plans for. What are you most looking forward to once you are able to open fully to the public?
M: We plan on Matrix being around for many years to come and are really excited to welcome everyone for some fun. We have had so much positive feedback already that 'Hereford needs this' and coming out of the pandemic it's more important than ever that family and friends have a place to meet for fun, group gatherings and parties.
R: Can you share with us the different fun activities you have on offer?
M: In Matrix, we wanted to create a place that gives you that 'holiday feeling' and happy memories. Our cafe and arcade area are vibrant and a cool place to meet friends and family, for families with young children we have a soft play area next to the cafe with reserved seating for parents. Upstairs you can play laser tag in our Zombie Outbreak themed arena or mini golf in our 18 hole Mission Space themed golf course. For older teens and adults we have Max Dogs urban axe throwing, which is really good fun and party rooms to combine activities with a party or for private hire.
R: I'm a big fan of mini-golf myself, so I'm excited about that! Do you have a personal favourite activity at Matrix?
M:Yes, the Mission Space mini golf is really spectacular. The course is glow in the dark, with planets and moonscape and space cave, even the golf balls are fluorescent! We're really excited for everyone to see it.
R: We've spotted some seriously decadent looking milkshakes available from your on-site café, can you give us some insight into what else will be available on your menu when you open fully?
M:We are specialising in yummy treats like soft serve ice cream, sundaes, shakes and freakshakes. We will also offer pizza and nachos which are good for sharing with your group.
R: You have made a huge transformation from the site of the old Poundstretcher, what made you choose to set up in the Eign Gate area of Hereford?
M:We wanted our venue to be in the centre of Hereford, easy walking access and with parking and transport links. The old Poundstretcher site had been empty for a long time and needed a huge amount of work before we even started to fit it out as a family entertainment centre but we believe Matrix is in the right place. Eign Gate needs to be revitalised and we hope that Matrix will regenerate the area, attract new businesses to Eign Gate and transform it into a vibrant area of Hereford.
R: If, like us, people are excited to try out all your activities, can you provide some information about when you hope to open to the public and where to book?
M: We are open now for take away coffee, ice cream and shakes then from April 12th we will have outside seating for the same. From May 18th all our activities are open for groups of up to 6 people and restrictions will be in place for social distancing inside Matrix. From June 21st we will be open at full capacity for activities and party bookings will commence. We are taking bookings now for activities and party packages on our website.
Follow Matrix Hereford on Instagram and Facebook to stay up to date with their news and updates.