Have yourself a Hereford City Christmas: Part 2
There's no better way to get into the festive spirit than by delving into the festive foodie delights on offer in the city.
There's no better way to get into the festive spirit than by delving into the festive foodie delights on offer in the city.
Festive Foodie Feasting
Practically every dining destination will have its own Christmas menu with their own twist, and here are just some of tasty turkey tables to get you in the mood.
With their magically twinkling tree-lit façade, The Green Dragon Hotel starts nibbling at Noel from 20th November with a festive Afternoon Tea and a la carte menus in The Hereford restaurant and lighter options also in the comfortable The Garrick Lounge, along with their party night menus.
From 24 November – 24 December The Cosy Club is offering 2 and 3 course Christmas menus, plus brilliant 90minute brunch experiences from 10 – 11.30am. Miller & Carter in The Old Market launch their decadent festive menus on 18th November through to 24 December and they're even open Boxing Day so you can carry on with the Christmas cheer.
Wildwood Kitchen is adding rather useful and cost-effective Christmas Drinks Bundles to their dining from 15 November, there's a nifty idea. The twinkling terraces of The Left Bank want you to think Tinsel & Tights and Big Hair & Baubles for their party nights on 10th & 18th December including festive carvery and live ABBA tribute band (more dates may be added).
Always with a family welcome, The Den in Bridge Street opens its Christmas 2 and 3 course dining menus from 1 December, as does Gilbies Bar & Bistro tucked away in St Peter's Close, alongside their usual dining selection.
Party nights will be a big feature at award-winning dining destination The Bookshop on Wednesdays through to Saturdays from 24 November, when they'll welcome any size party from the solo diner soaking up the yuletide vibe to up to 40 revellers.
Look out too for turkey, stuffing and cranberry rolls on-the-hoof while you're shopping from The Coffee Cart in High Town.
Fancy a Christmas Cocktail Crawl?
Here are our ideas for some real Christmas Spirit:
The Offa Lounge. This premium Cocktail Bar at The Green Dragon Hotel has great new seasonal cocktails on offer, including, The Grinch, Festive Mule and Bakewell Fizz.
Lupa. Visit Hereford's newest cocktail venue for great drinks accompanied by regular Friday DJ nights.
Yates. Located in Commercial Street, Yates is always a cocktail favourite with some great offers if you're out for a party.
Saxtys. Celebrating its first Christmas back on the scene, Saxty's has a well-stocked Champagne and Cocktail bar and their Dead Mans Fingers garden rum shack to offer. Why not book their VIP Champagne mezzanine for some elevated festive fun?
Charles' Bar. Located at the Left Bank Villiage and available to hire for your own rockin' robin party – club together with your favourite festive people for a fantastic night.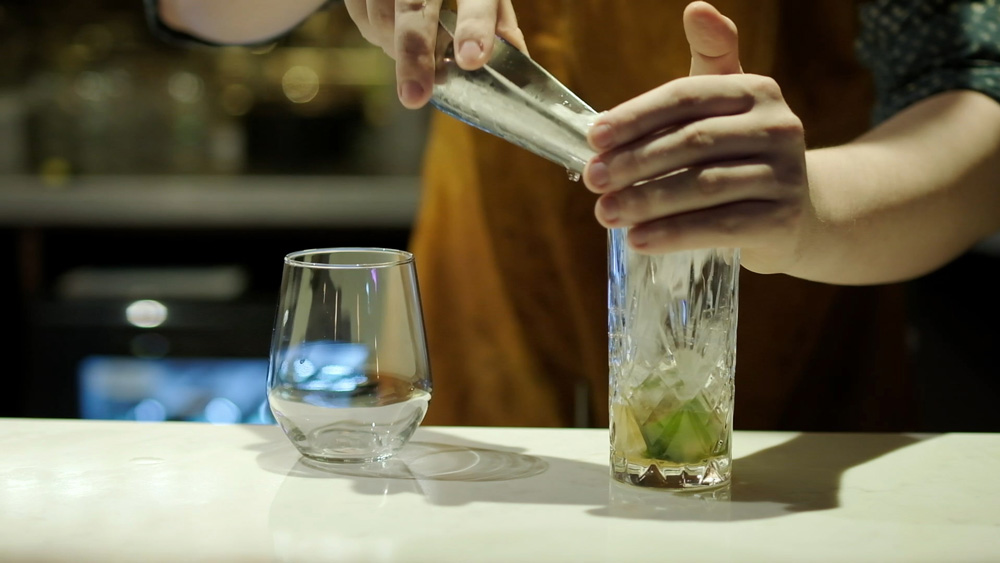 Indulgent Foodie Shopping
This is the time to indulge in those speciality foods that make Christmas so memorable.
Cold cuts are perfect for those lighter periods between full blown meals and the Hereford Charcuterie in Hereford Butter Market has a huge range of cured meats perfect for platters. The Hereford Deli in St Owen Street Mews are also doing delicious foodie hampers, perfect as a generous pressie and brilliant as a 'thank you for hosting' gift if you're going to someone's house with prices starting from just £15.
The Little Deli in Church Street is an ideal Christmas shopping respite stop with their voyeuristic window seat where you can perch with a warming slurp of silky soup before leaving with your impulse purchase panettone. Their shelves are packed with gourmet treats and deli delights that you won't find in the supermarkets.
Your festive smorgasbord wouldn't be complete without an aromatic trip to Mousetrap cheese shop also in Church Street. From local matures like Hereford Hop and Stinking Bishop to flavoursome national and international varieties with crackers and chutneys to match. Then all you'll need is the wine to go with it, or to be more precise, the Port …. Enter Tanners, the long-established independent wine merchants in St Owen Street. Their knowledgeable staff will guide you through from Barolo to bubblies whatever the occasion.
Blessed to be in an agricultural county packed with the finest meats, Christmas is when Hereford's butchers really indulge you with their finest wares. From rare breed pork, to Hereford beef and of course the crowning Christmas glory; a regionally raised turkey or even goose. For these and all the trimmings, get your orders in early to the likes of Neil Powell and Phillips & Preece.
If you're not Hereford's answer to Mary Berry, food to order could be the way to go. M&S, Waitrose and other supermarkets all have their own large scale prepped and pre- ordering brochures, plus lots of the Indie restaurants are continuing with collection and delivery services – be sure to check their sites and social media for details.
Who's open for Christmas Day Dining?
Take the strain (and the washing up) out of Christmas Day cooking and make this year an extra special treat with a professionally cooked and served festive feast at Hereford City's most exciting dining destinations.
Book your big day tables at The Green Dragon Hotel, Saxtys or Miller & Carter all of which are serving sumptuous multi-course menus with luxury touches.
We also love that Cosy Club is doing a Boxing Day & New Year's Day Recovery Brunch - how clever!
New Year's Eve Partying
Cosy Club brings you a night of opulent celebration, with cocktail and canapé on arrival, sumptuous 4 course dinner, live music & dancing, Prosecco for midnight, and fun Polaroid & props for lasting memories.
Book a table to see in 2022 at the Green Dragon with an impressive 3 course menu and live swing band in the Ballroom. There's even a super overnight stay package for a real treat.
Saxtys will have a special New Year's Eve menu for those wishing to enjoy the restaurant until 9pm, and then you can then let the champagne corks pop as you party away in their club and terrace with a live DJ right until 6am!
Left Bank Village will be opening its three terraces to a night of DJs and partying to ring in the New Year in traditional celebration style, and of course the City's biggest night clubs The Venue and Play will battle it out for DJing endurance.
Season's Greetings everyone!