Behind the Scenes at Saxtys!
Like many in Hereford, we were thrilled when we learned that popular bar, club and restaurant, Saxtys, which closed its doors three years ago, was being given a new lease of life and would be reopening in 2021.
Having already heard some exciting details about their plans and new restaurant menu, we stopped by for a peek behind the scenes and a chat with new head chef, Martin Carter to discover more. Not only is the venue looking great, we were even lucky enough to sample some of the fantastic food that will be on offer. Hereford is in for a treat!
With over twenty years of experience serving great food to the people of Herefordshire, Head Chef Martin is bringing his skills and signature dishes to Saxtys to create an exciting new dining experience. He explained his vision behind the menu and his commitment to sourcing food locally, saying, 'our aim here at Saxtys is to use local produce, from butchers, greengrocers, fishmongers and small traders, and to promote these within the restaurant'.
One particularly exciting feature on the new menu is the showstopping Black Rock Grill, which Martin demonstrated for us. Diners will be able to choose their meat, from a selection of locally sourced steaks, lamb and chicken, and have it served sizzling at their table on a 450 degree hot rock. This method lets you cook your meat exactly as you like it to achieve the perfect colour and flavour.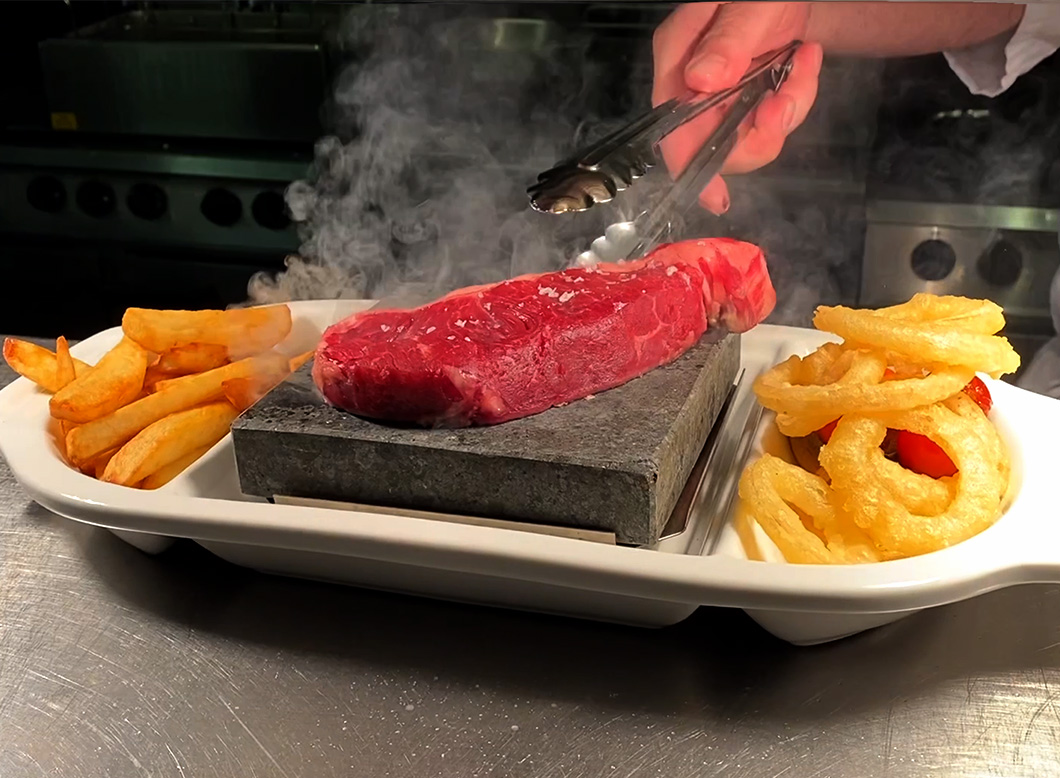 If you fancy something a little less interactive, don't worry – Saxtys' menu will also feature a variety of specials (with a focus on seafood), as well as small plates, vegetarian options and decadent roasts on Sundays.
The Saxtys team will also be offering a fantastic wine and cocktail menu, plus local and national beers and spirits behind the bar, so anyone familiar with Saxtys reputation for great drinks won't be disappointed.
With the menu set and renovations completed, Saxtys will reopen on 20th May 2021. If, like us, you can't wait, head to their Facebook or Instagram to stay up to date or book your table here.