Live Here, Work Here, Enjoy Hereford!
There are so many reasons to love Hereford, especially if you live or work in the city.
After a prolonged period of home working, many people are making the return back to the office, while others are embracing the remote work lifestyle. Whichever you are, we wanted to remind you of the perks of working in our lovely city centre.
To provide extra insight, we teamed up with WorkHere, Hereford's Co-Working Space in High Town, to chat with their team and members about what makes working in Hereford city centre great. The WorkHere team are as passionate about supporting local business as we are, so were keen to share their recommendations and thoughts with us.
Heavenly Hot Drinks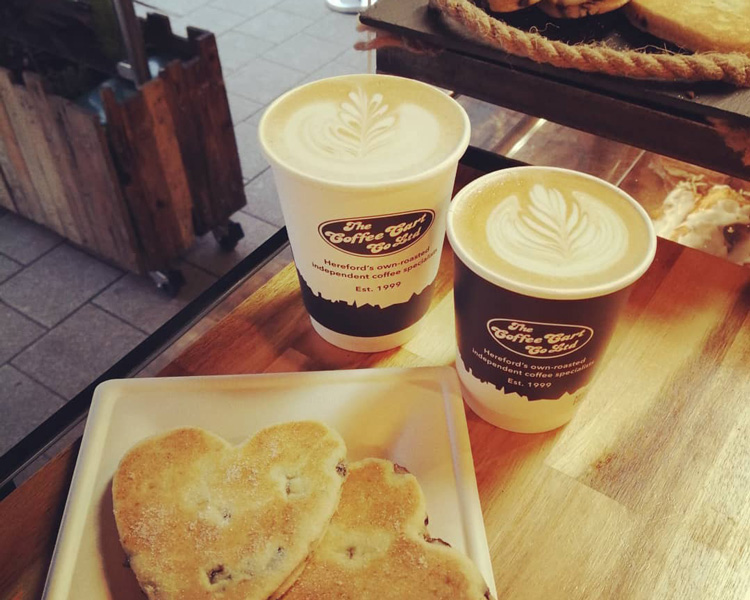 Hereford is full of great coffee shops, delis and cafes, all offering a range of delicious beverages to suit your preferences. Whether you stick to a favourite or like to switch things up, with much-loved national brands, like Costa and Nero, and lots of local independents to choose from, you'll be sure to find somewhere to pick up a hot or cold drink on your way into work or on your break.
WorkHere recommends:
Henry Yates, Yates Creative Copywriting - "Anywhere on Church Street. It's the Diagon Alley of Hereford, and the city's most picturesque stretch, with the Cathedral in the background."
Ffion Pugh, WorkHere – "my go-to drink is usually a hot chocolate, so I tend to get it from Coffee Cart in the City Centre as it is central and convenient, and I currently have a discount there [from WorkHere]."
Joanna Kippax, WyeSleep – "the coffee kiosk [Coffee Cart Company], opposite the door of the office in High town does a nice decaf cappuccino!"
Great Spaces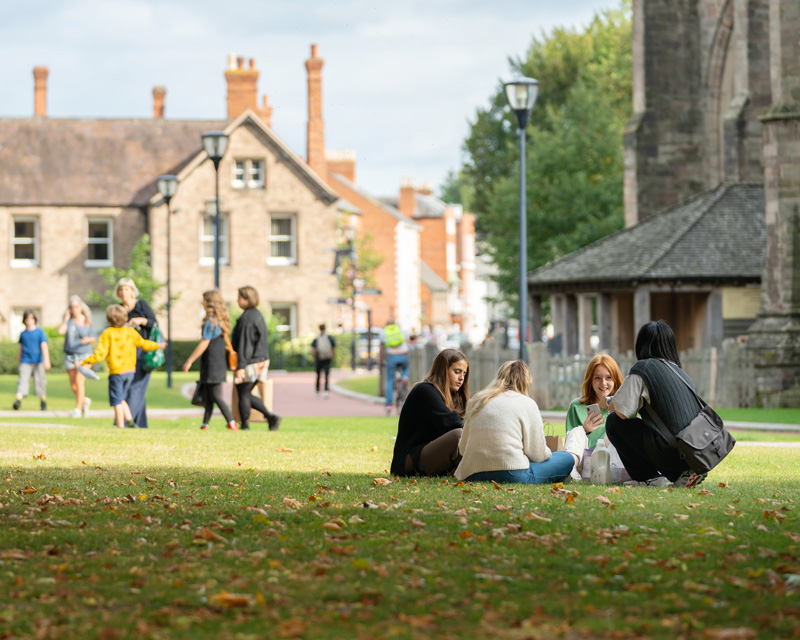 Hereford benefits from plenty of attractive green spaces around the city. Why not use your lunch break to appreciate and explore them? From park spaces like Cathedral and Castle Green to hidden gems like Blackfriars Rose Garden, there are plenty of picturesque locations to discover - weather permitting obviously!
These areas provide a great excuse to get out from behind your desk, whether you sit on a bench to eat lunch or go for a walk to stretch your legs. Being able to get out and about is part of what Henry (Yates Creative Copywriting) enjoys about working in Hereford, with Castle Green his recommendation for a nice place to walk.
City Centre Convenience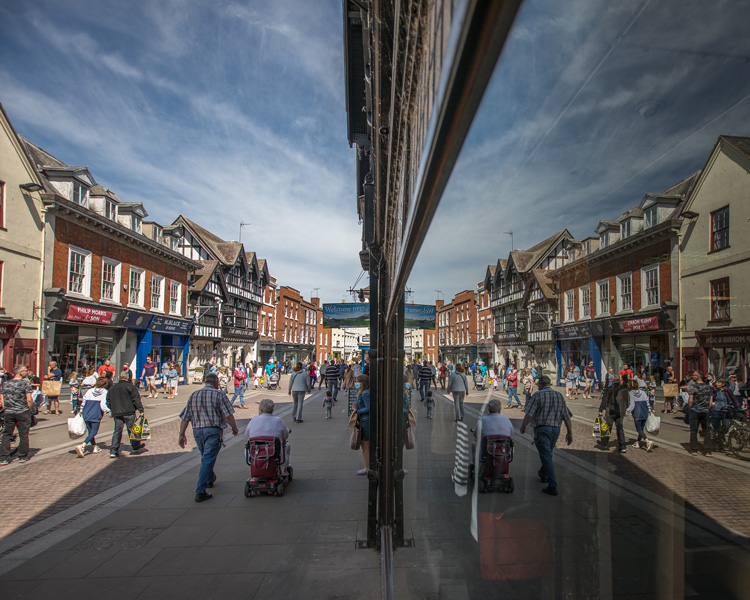 Working in the city centre also means close proximity to our fantastic shops and services! After work or on your lunch break you can browse at your favourite independent boutique or pop to the bank; the city centre has convenient access to whatever you need.
For Joanna from WyeSleep, one of the things she loves most about working in Hereford is "being able to pop out at lunchtime and have a break now businesses are returning to normal."
Ffion, Customer Service Assistant at WorkHere, agrees; "I enjoy working in the centre as it is close to everything if I need to pop to the shops or go out on my lunch break. It is different to previous jobs where I've been in a different place for every shift, usually far out of Hereford which isn't the most convenient."
Foodie Favourites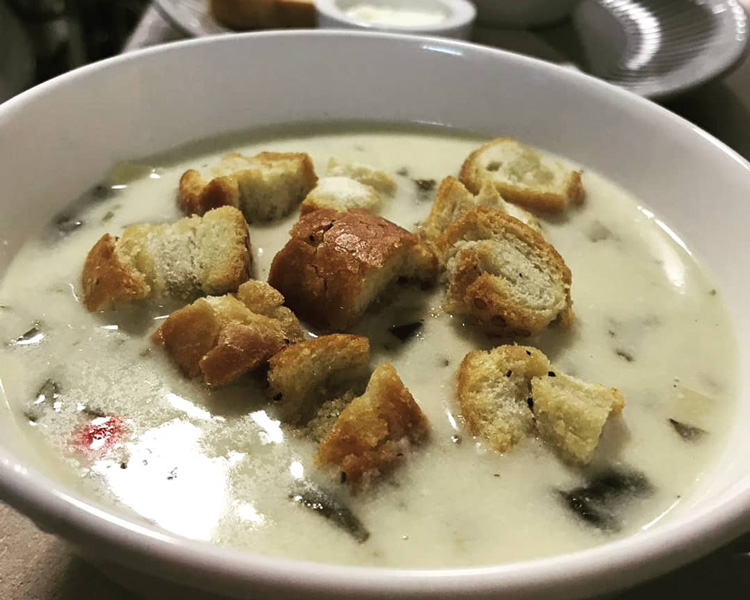 Whether you are picking up lunch or heading out for dinner with friends after work, Hereford's foodie scene has you covered. From soup and sandwiches, to cocktails and pizza, our wide array of fantastic cafes and restaurants will leave you spoilt for choice.
Work Here recommends:
Mark Stevenson, co-founder of Work Here – "One of the benefits of being in the centre of Hereford is the great array of independent businesses that we've got. One of my favourites is The Little Deli on Church Street; I recommend you try their soup. Also, just next door [to WorkHere] we have the Butter Market, they've got some great independents coming through now. You can nip out and get your lunch and then come back in again."
Ffion Pugh, Work Here – "I usually just go for the Tesco meal deal, but occasionally I'll get something from the Jacket Potato stand, Greggs or Costa."
Joanna Kippax, WyeSleep – "Sensory and Rye is my favourite or the Deli on Church Street too. Lots of great options now."
Co-Working in Hereford
Still working from home? If you are missing the social aspects of office life and want to enjoy the benefits of city centre working, join a co-working space! WorkHere is a contemporary community workspace in the heart of Hereford. They offer the flexibility of home working but with a whole host of other benefits, including super-fast internet, attractive workspaces and a brilliant meeting room. Plus, you have the opportunity for plenty of networking with other members.
Here's what Work Here members had to say:
Henry Yates - "I worked at home almost exclusively between 2004 and 2020, and whatever the buzzy newspaper articles are saying right now, it's massively overrated. There's a constant, gnawing sense that life is happening elsewhere, and that you've fast-tracked into a housebound pensioner. I've loved my time at Work Here in Hereford so far. It's a brilliant space, with styling straight out of an interiors magazine, run by lovely people, and frequented by interesting entrepreneurial types who I look forward to meeting properly when normality returns. Another thing I love: whenever I've worked in a 'proper' office in the (distant) past, there were always politics, or the pressure to look busy, or some boss figure tapping their watch if you were late or wanted to nip out for something. At Work Here, you're not a part of anyone else's business, and get all the social side of an office without any of the strictures or suffocations. Which is an incredibly liberating feeling."
Joanna Kippax - "I am more productive in the co working office. The internet is a fantastic asset as the 1GB at home is not fit for purpose. Louise and Mark are megastars, just the right balance of being supportive but they never interrupt my work. [There is] great networking, meet some very interesting people, gives me structure to my week. Definitely been good for my mental health -there's a few reasons for starters!!"
Sarah Jones – "I've been using the Work Here space for a few months now and could not be happier. Mark and Louise were so welcoming from the start, the space is bright, the WiFi is super quick and there's plenty of free tea and coffee - what more can you ask for? If you've been working from home and need somewhere that gives you focus but also where you'll meet lots of lovely people, this is it."
Interested in joining a co-working space? Get in touch with WorkHere to book your free trial day! Don't forget - you can also receive a 20% discount on WorkHere's day rates when you use the LoyalFree app!