Exhibitions at Ferrous 22
Learn more about the exhibitions from local and international artists on display at Ferrous Festival.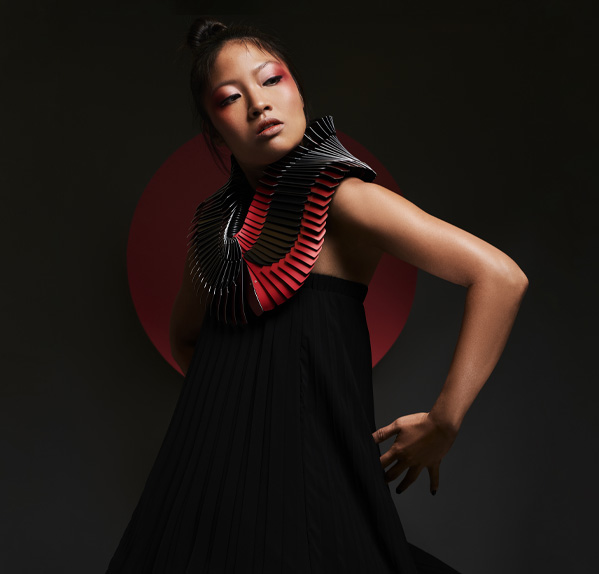 Credit: John Moore, Pagoda II, photo Chris Bulezuik
Queer + Metals
25 March - 3 April | 11am - 4pm | 6A St Peter's Square
A Craftspace exhibition co-curated by Dauvit Alexander and Deirdre Figueiredo in collaboration with Rebekah Frank
Queer + Metals explores the multiplicity of queerness—whether as identity, lived experiences, thinking, cultures, aesthetic, influences, stories, place, and imagination—in relation to metalwork and metalsmithing. It's a means to affirm, empower and express solidarity between LGBTQ+ creatives, making visible the ways they are shaping, disrupting and contributing to contemporary craft and design practices. Rather than provide answers or fixed ideas, it seeks to open up possibilities and make connections within a diverse, complex and fluid community of making.
Artists featured include jeweller John Moore, jeweller and drag artist Fei He, knife maker Gilbert Hadden and metalsmith Theo Somerville-Scott, amongst others. The exhibition also includes images and video interviews produced as part of San Francisco based jeweller and writer Rebekah Frank's digital residency with Craftspace.
Dauvit, Deirdre and Rebekah identify as LGBTQ+ as part of their intersectional identities, making this project a personal and collective endeavour. Presenting in public space is an opportunity for a wider audience to become more aware of diverse cultures.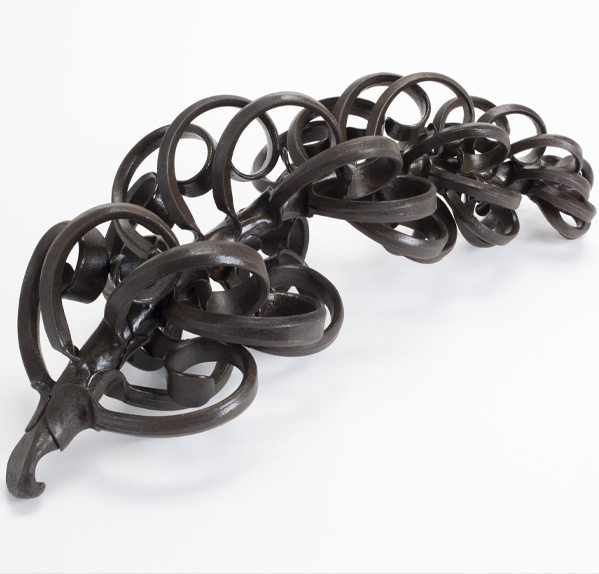 Credit: Artwork Ambrose Burne. Photo Oliver Cameron-Swan
Iron Landscapes
25 March – 3 April | Hereford Cathedral

Hereford Cathedral will be home to Iron Landscapes, a celebration of Herefordshire's artist blacksmithing community and the different ways they express themselves through their craft. Combining sculpture and design, the exhibition showcases the skill and diversity of some of the county's finest blacksmiths, all set within the stunning architecture of the Cathedral. Come and see just how versatile and expressive forged metal can be.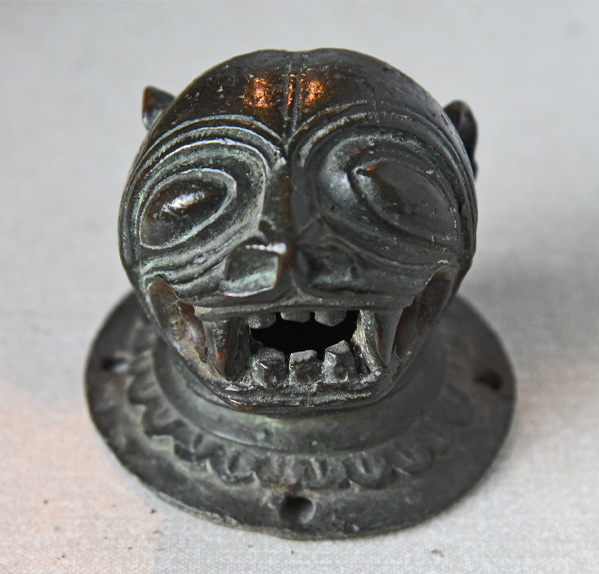 Credit: Dormington Door Knocker - Hereford-Cathedral
All Things Bright
24 January - 23 April | 10am - 5pm (Mon - Sat) | Hereford Cathedral
All Things Bright is an exhibition in the Mappa Mundi and Chained Library that celebrates a thousand years of metalwork from the collections of Hereford Cathedral and Diocese, enabling visitors to view a trove of precious and rarely displayed pieces.
Hereford Cathedral is full of treasures, examples of the very best in art, craft and architecture, created over the centuries as offerings to God. Among them are a wide variety of metal objects, some fundamental to the act of Christian worship, others tucked away and perhaps overlooked. As well as its own metalwork treasures, the cathedral also cares for the historical silver no longer in regular use in churches in the Hereford Diocese.
Admission charges apply. Last entrance 4:30pm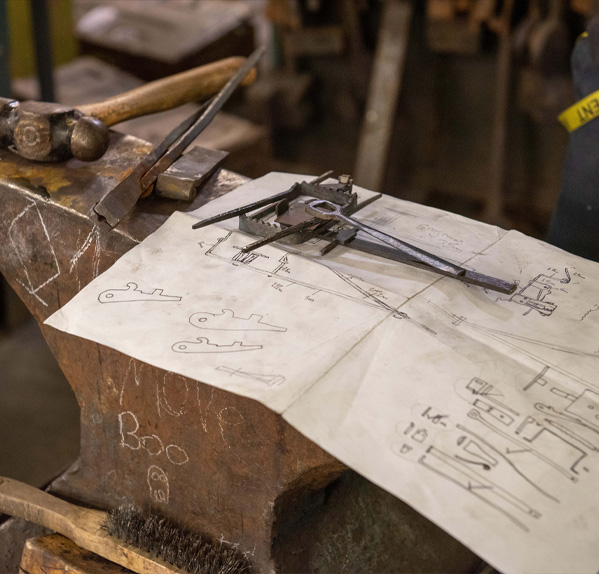 Credit: Artwork - Matthew Wadey. Photograph - Oliver Cameron-Swan
Forging Replicas and Artefacts
25 March – 3 April | 11am - 4pm | Hereford Museum & Art Gallery
Forging Replicas and Artefacts is the culmination of a three-year project by Dr John Grayson and second-year undergraduate students at Hereford College of Arts (HCA) in collaboration with Hereford Museum Resource and Learning Centre. The project aimed to understand historical blacksmithing craft by analysing and replicating iron and steel objects of the past and considering their relevance in the present age through making contemporary art, craft or design responses.
The exhibition presents historical items from the museum collection—an eel spear, a set of sugar-nippers or a rush-light, for example—with historical replicas made by the students. Photo documentation and written accounts bring to life the lost making processes. Furthermore, the value of historical craft and defunct objects as inspiration are explored through the student's creative contemporary art, craft and design objects.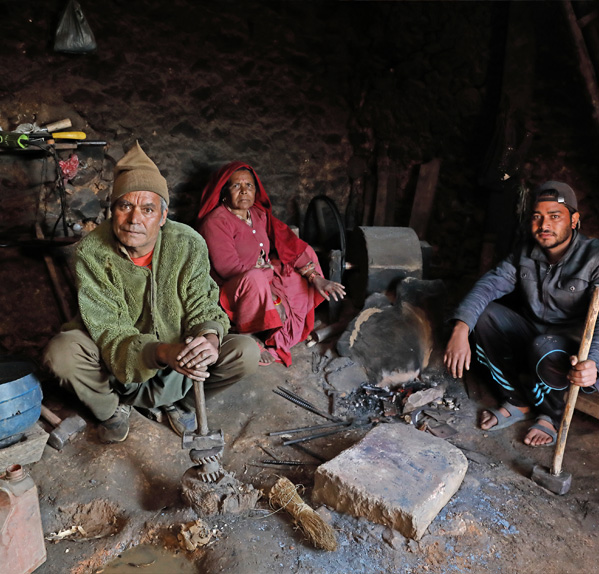 Credit: Jun Ishikua (Japan )Image Ghimire Family ( Nepal )
Planet of the Blacksmiths
25 March - 3 April | 11am - 4pm | Powerhouse, Maylord Street
鍛冶屋の惑星
Japanese photographer Jun Ishikura visited 19 countries and over 170 locations on a journey to research and capture how the ancient culture of blacksmithing survives in the modern age, "As I visited and researched these different countries and cultures, I became interested in why these people live the way they do, and I began to document the difference in their respective processes and styles."

In Jun Ishikura's studies of blacksmiths and their forges, there are many similarities across the regions where the craftspeople live and work, and the different generations involved. The photographer found that there are makers who try to preserve traditions, those who adopt new technology and others who present their craft as a form of entertainment.

"It is my personal belief that the art of blacksmithing is one of the most significant developments in human history. I'll continue to observe this culture and express my heart through photographs."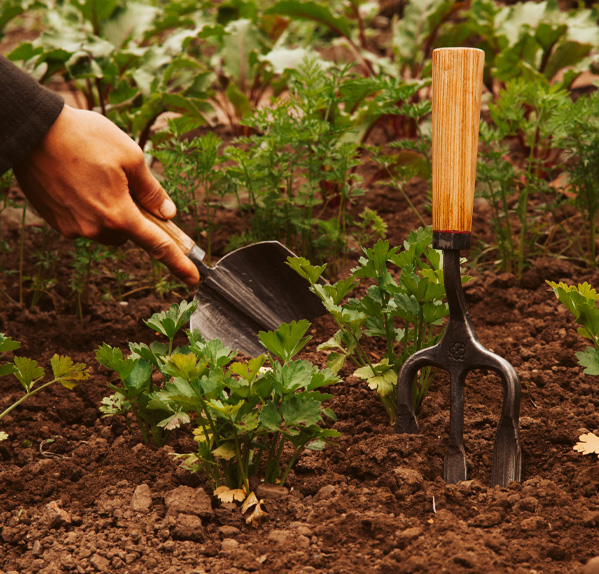 Credit: Artwork - Jonjoe Preston. Photograph - Amy Hewitt
Hereford Anvils Alumni
25 March – 3 April | 11am - 4pm | 7 Gomond Street
A collection of work from recent graduates of the BA Hons Artist Blacksmithing course at Hereford College of Arts, AKA @herefordanvils
Getting established as an artist is challenging for any new graduate, particularly when setting up a business. For the classes of 2019, 2020 and 2021, these difficulties were compounded by the global Covid pandemic, when some faced completing the degree course under lockdown conditions. Everyone had to find ways to support themselves in a commercial landscape depleted of opportunity, while trying to nurture their own creativity and develop their skills.
This exhibition demonstrates how the makers used their passion, tenacity and creativity to rise to the challenge, showcasing the breadth of possibilities, from architectural ironwork to interior products and sculpture. Meet the next generation of forged metal designers…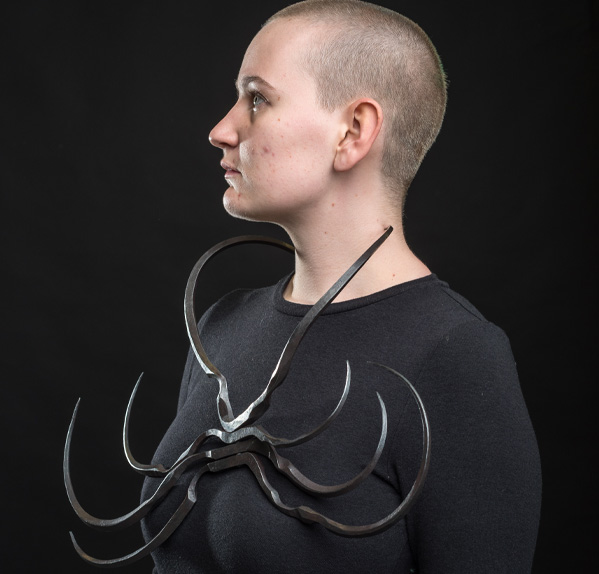 Credit: Artwork - Annie Higgins. Photography - Oliver Cameron-Swan
Emerging Practice
25 March – 3 April | 11am - 4pm | 1 Gomond Street
The Emerging Practice exhibition is a vibrant display of the very best in cutting-edge craftsmanship from this year's crop of emerging makers on the Artist Blacksmithing, Contemporary Design Crafts and Jewellery Design degree courses at Hereford College of Arts.
The exhibition explores, challenges and celebrates contemporary craft through sculptures, artworks, vessels and containers. It's a chance to see a new vision of traditional crafts through the eyes of developing talent. The artists and makers will be exhibiting more works in this summer's Hereford College of Arts Festival of Arts.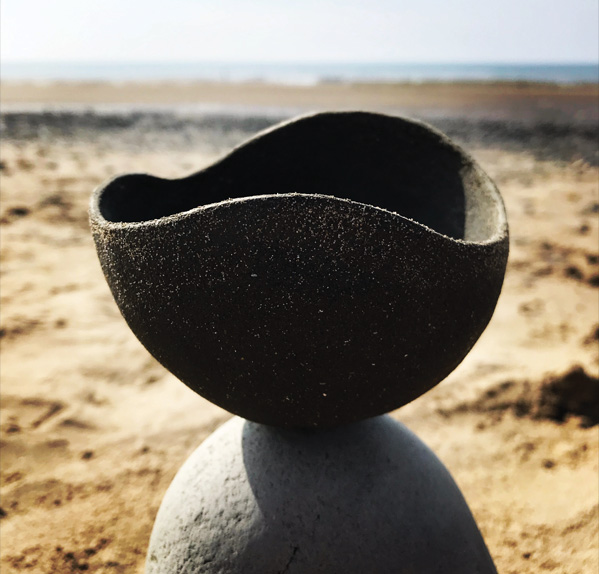 Credit: Artwork and photograph - Matthew Lloyd
#GetOutGetInspired
25 March – 3 April | 11am - 4pm | 7 Commercial Street
A lively exhibition showcases the inventive ways that artists, makers and workers interact with Herefordshire, its history and nature, and invites visitors to #getoutgetinspired themselves.
Artist Anya Keeley takes on the role of urban archaeologist, gathering discarded objects on her walks and repurposing them, so that they take on new identities and forms. Anya has curated #getoutgetinspired for Ferrous, combining some of the artefacts and samples she has made over the last couple of years with the vast collections of objects found by a farm worker over a 56-year period on the Netherwood Estate, along with Hereford College of Arts students' work from their current #getoutgetinspired project. Also on show are photographs from workshops at The Cart Shed, a Herefordshire charity that supports people through therapeutic activities, and work created by local schoolchildren.
The Netherwood Collection consists of thousands of pieces of fragmented treasure and rare trinkets found over nearly a century of farming at The Netherwood Estate, including everything from Neolithic arrowheads and Bronze Age jewellery to Victorian bottles, Roman tiles, and much more. A selection is usually on display at Pensons, Netherwood's Michelin-starred restaurant. This is the first time that the cabinets will be available for public viewing in Hereford.
As part of #getoutgetinspired, Hereford College of Arts' Artist Blacksmithing students ran workshops in Herefordshire Primary Schools, to introduce pupils to the tools and processes of the blacksmith. Inspired by nature and the environment, the children created embossed pictures on small metal plaques, including images of plants and animals. Come along to see what pupils have made, as we celebrate their craft skills.