Hereford's Christmas Shopping Guide
Looking for some Christmas shopping inspiration? Hereford City Life have got you covered! Whether you're searching for the perfect gift for a loved one, a budget-friendly stocking filler or something a little different, we've got a few suggestions from Hereford's brilliant selection of shops that we hope will inspire you.
Fun & Games
It wouldn't be Christmas without a little post-dinner competitiveness. If your family love a board game, then these two below might be just what you're looking for! ​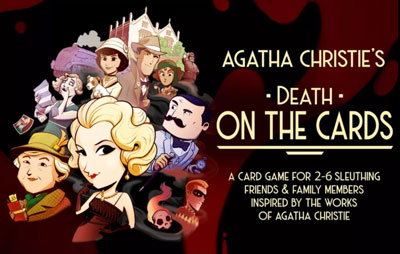 Instead of that ancient version of Trivial Pursuit you've had for decades, why not pick up something new? We love the sound of 'Beat the Parents', a board game where the roles are reversed and it's the parents who have to answer questions about kid's stuff – tv shows, special places or even ice cream flavours. Find it and lots of other toys and games at The Entertainer in Commercial Street.
Alternatively, if you're a murder mystery lover, Waterstones have a fantastic card game with a twist – Agatha Christie 'Death on the Cards. This game needs all your detective skills to unmask a culprit and solve a murder as you cooperate with the other players, but beware – one of them might just be the murderer!
Pamper Yourself
After this year, we all deserve a little pampering. Whether you're treating yourself before all the festive activities begin or picking up something as a gift, here's some great ideas for you to enjoy whilst you put your feet up.
The great range of products in the Body Shop on Commercial Street always make fantastic gifts and this year their 'Things Might Get Messy' Masking Kit really caught our eye! This trio of Body Shop's Expert Face Masks are sure you leave your skin feeling great, just apply to your face and enjoy some relaxation time.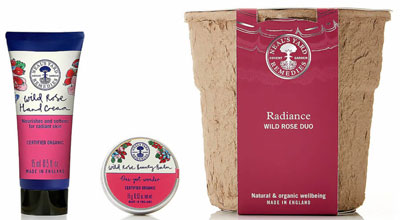 If hand sanitizer has left your hands feeling dry, Neal's Yard Remedies have a wide array of hand creams and lotions to help sooth them. We like the look of their Radiance Wild Rose Duo; this gift set includes a hand cream and Beauty Balm in the same lovely scent, but if you pop in to the store on Widemarsh Street to chat with their lovely staff, you'll be sure to find the ideal scent and product to suit you.
Stationary & Books
Do you love stationary as much as us, or know someone who does? Notepads, diaries and books make great gifts or stocking fillers and there are plenty of places in Hereford to choose from to find the perfect item, from Tiger in the Old Market to The Works on Commercial Street.
If you're ready to say goodbye to 2020 and focus on the future, Off the Wall in St Peter's Square have a beautiful Wrendale 2021 Desk Diary that could make a perfect gift for any friends or family with their fingers crossed for events, holidays and parties to be able to return in next year.
Paperchase in the Old Market is also a great destination if you're on the hunt for stationary items. We like their Personalised Gold Letter Notebooks; they are a fantastic price at only £7 and we think would make good stocking fillers.
Delicious Delights
If Christmas isn't a time for feasting and merriment, then when is? We're lucky to have a huge range of incredible delis, butchers and food shops in Hereford, which gives you plenty of options for ordering supplies for Christmas dinner or for picking up gifts for that foodie in your family.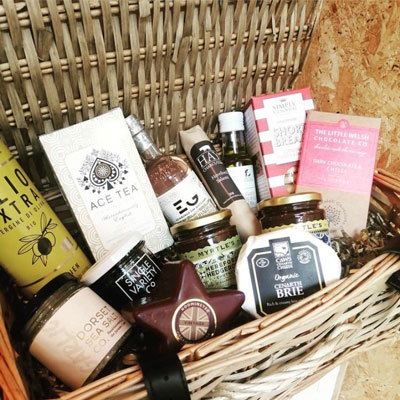 Why not by Church Street to pick up all your cheeseboard essentials. From cheese and crackers to delicious local chutneys, the Little Deli, Mousetrap Cheese and Fodder have a tasty selection of options for you. You could even put together a Hereford Foodie Hamper or purchase a ready made one from the Little Deli.
You can't beat a bit of fizz for the festive season, so why not try Tanners' Prosecco – this great tasting fizz would be ideal for Christmas day or New Year's Eve celebrations. As well as a wide selection of wines, Tanners Wines also sell spirits that would make great gifts for the gin or whiskey lover in your life. You could also head to Widemarsh Street to visit the Secret Bottle Shop and discover their fantastic store full of great wines, spirits and Christmas gift ideas.
Gifts £10 and under
If you're looking for stocking fillers or Secret Santa presents on a budget, we also love:
Incense Gift Set | Enchanted Cauldron | £5.00 | A selection of three boxes of incense sticks and a holder.
'Winter Drinks' cocktail book | Printer + Tailor | £9.99 | This book is full of delicious drinks recipes to make this Christmas.
2 Pack Printed Handkerchiefs | Symonds of Hereford | £10.00 | Charming cotton handkerchiefs with a variety of printed designs.
Handmade French Soaps | Fox & Mabel | £3.50 | These gorgeous scented soaps are enriched with shea butter and make great gifts.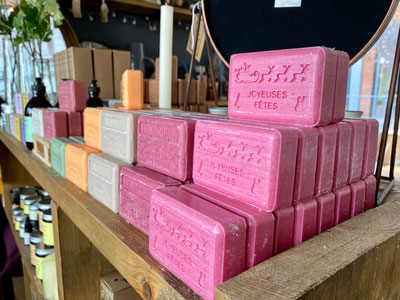 For more shopping inspiration, head to LoyalFree, Hereford's loyalty app, to discover our Festive Shopping Trails.